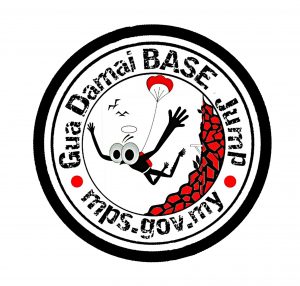 Cliff:                   GUA  DAMAI
Height:               96 metres
Location:           Gua Damai Extreme Park, 
                               Batu Caves, Selangor, Malaysia
JUMPING DAY:
25th and 26th September 2018 
(morning session only)
Organiser: Selayang Town Council (MPS)
SUPPORT BY 
:Tourism Selangor
: Selangor Journal (UPEN)
: Gua Damai XPark
: Malaysia BASE Association
: Malaysia Civil Defence Dept
 : Selayang Hospital
 : Fire & Rescue Dept
 MANAGED BY: Wira Adventure Consultant
This year will be the 11th consecutive year the management of Gua Damai Extreme Park opened their small and famous cliff for BASE jumping event. This is a popular and legal cliff that many participants would like to jump off, before the main event at Kuala Lumpur Tower.
Gua Damai is located in Batu Caves, the state of Selangor which is the neighbour of Kuala Lumpur. Gua Damai Extreme Park is about a 20 minute drive north.
GUA DAMAI
Gua Damai is the first and only place in Malaysia where all BASE Jumpers can jump from the height of 316 feet (96M) from its cliff and land in the football field.
Trekking up in the caves will take you 15 minutes to reach to the top. There you will see a specially design 12 foot steel ramp, constructed platform for BASE jumpers, equipped with safety line.  From this point, you can choose hand held or PCA. The platform commands a view over a village with its multi-color rooftops, some high-rise dwellings and other hills. Breathtaking!... The landing area is a soccer field. You need to fly about 100 meters to make it there.
TRANSPORTATION TO GUA DAMAI
Organiser will provide 2 buses to transport the jumpers from hotel to Gua Damai for the 2 days with NO charge.
The 1st bus will be at the lobby of Pacific Regency Hotel Suite, by 0615 hrs and 2nd is at 0630 hrs.
All jumpers must be at the lobby 10 minutes early.
If you miss it, just take a Grab Car, will cost you about RM30 per car x 3 passenger. It is advisable to come in a group, as it will reduce your cost.
JUMP FEES
Fee is (Ringgit) RM200.00 for the 2 days jump.
All cash transaction is at the site on the jump day.
Participant will be given:
Event T Shirt, Jump passport, welcoming drinks and goodies bag for souvenirs. unlimited mineral water is free for the 2 days jump.
JUMP PASSPORT
You must present your "Jump Passport" at the entrance every time you want to jump. Loss of passport will cost you extra charges of RM50 to replace the card.
MEDICAL TRAVEL INSURANCE
All participants must have medical travel insurance that covers them for BASE jumping during all events
WAIVER FORM
It is compulsory for all jumpers to fill their waiver form at the registration desk on the event day. It is advice participant to register online, by emailing their name, gender, passport no, and country they represent.
FOOD & BEVERAGE
Soft drinks and Lunch will be provided to all jumpers for the two days event.
Any question regarding the event, feel free to drop us an email,
Cheers,
WIRA ADVENTURE CONSULTANT
Mustapha
Event Manager
Gua Damai International BASE Jump 2018
GUA DAMAI EXTREME PARK